Garage doors are built to operate in any weather, serving you reliably for years at a time. While these devices are designed to be durable, the heavy weights and normal wear and tear placed on overhead door systems can add up. If you're worried about your roll-up door working properly, our garage door repair pros are here and ready to help!
Guaranteed Garage Repair has helped residents from Stuart and beyond achieve peace of mind and complete control over their overhead door throughout the year, relying on our proven practices and comprehensive quality every step of the way.
Today, we'll highlight five common areas where your garage door can break down. If you're in need of immediate assistance, feel free to call our garage door company today!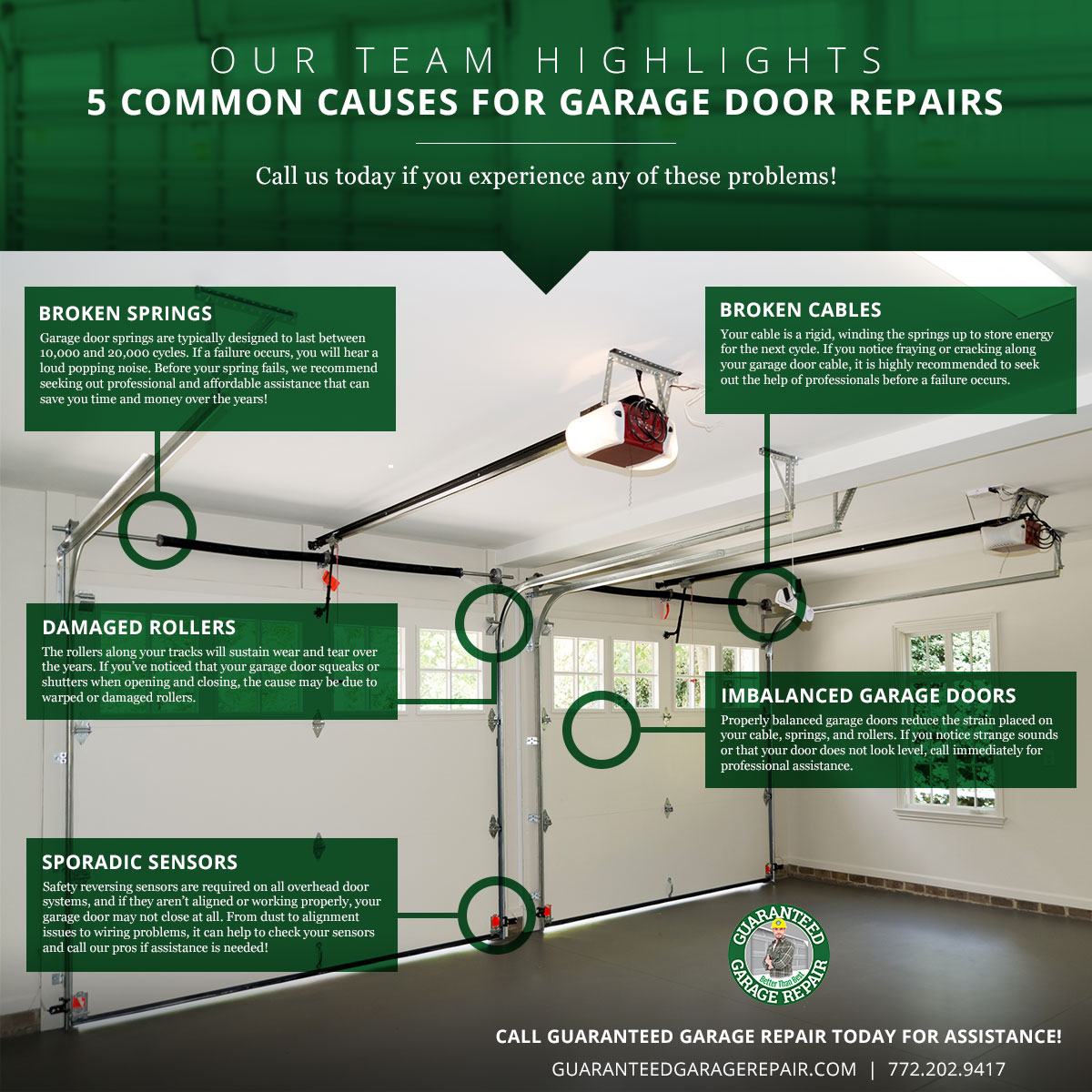 Broken Springs
Garage door springs are designed to provide reliable results year-in and year-out, but it's important to keep in mind that these vital components are rated to a preset number of cycles. Most garage door springs work for 10,000 cycles before replacement, with one cycle accounting for one use of the overhead door itself. Normal springs, therefore, will last roughly seven years.
If you're dealing with garage door spring problems, it can help to reach out to our garage door repair pros in Port St. Lucie for assistance. We can install new springs that can last upwards of 20,000 cycles, saving you time and money in the long run.
Broken Cables
Garage doors are heavy, relying on several components for a smooth, safe opening. As you lower your overhead doors, it can prove beneficial to see how the springs are wound up and energized. These springs rely on garage door cables for the best results. When things begin to go wrong, Florida homeowners can experience a range of problems.
One common issue comes from the cable becoming wound around the drum, coiling around the sides and causing the door to stop lowering. Another issue comes from the daily wear and tear placed on your garage door cable. Heavy use over a long period of time can cause the product to fry and warp, until the cable snaps. If this happens, we recommend calling for immediate garage door repairs!
Damaged Rollers
Affordable, replaceable, and vital for smooth operations, the rollers along your roll-up door consist of metal or nylon and look like small wheels that move the door up and down along its track. Warped, chipped, or otherwise damaged rollers can begin to break down and cause problems. If you notice that your door is not closing smoothly, or that it has popped off of its tracks, the problem may likely be due to faulty rollers. These devices are very affordable and can result in serious improvements to your overhead door!
Unbalanced Garage Doors
Balance is essential for properly functioning overhead doors. Improper weight distribution can cause excess wear and tear on your pulleys, rollers, cables and springs. Florida homeowners that notice strange sounds during opening operations, an increase in closing times, or that the door does not look even should contact our team for professional garage door repairs. Balancing a garage door can range in difficulty, and working on the springs to restore balance can be downright dangerous. This problem can develop slowly over time or overnight, so be sure to call for assistance!
Sporadic Sensors
While essential for safety, the lens eye that keeps a keen eye out for trouble can become the source for numerous problems. Safety reversing sensors are required on all overhead door systems, and if they aren't aligned or working properly, your garage door may not close at all. If you notice sensor issues in your Florida home or business, it is vital to take corrective action.
Sensors that are dirty or knocked out of alignment can cause sudden, disruptive problems. This technology has also been known to fail if not properly cared for, so be sure you check for a blinking light to see if your device is working. Guaranteed Garage Repair is here to help if the problem cannot be easily resolved.
Call Today!
You likely do not think about your garage door until something goes wrong, and when it does, it's important to reach out for affordable, professional results. Our team has specialized in garage door repairs for Stuart, Jupiter, Port St. Lucie, and beyond for years, and we're so confident that we'll provide results that are Better Than Best that we guarantee your satisfaction.
Contact us today to learn more about how we fix garage doors, and be sure to schedule your service with our repair team for quality results!